Jon had mentioned that the work we would be doing for the next six weeks, we would be interacting with more artifacts then last season's work. I harbored a smiggon of doubt about finding artifacts this summer. That doubt was blown away on Monday. We found more within two holes then what was found all of last year. We found FCR (fire-cracked rock) and a large variety of flakes.

Our holes were set up going from east to west and north to south in order to determine the extent of the occupation of the first site. It was not just the uncovering of artifacts that was interesting, but the soil change. Last year we focused on studying the soil deposition and context while we took samples for phospherus testing. Jon stated that some of his peers shows some disaproval of his auger techinque stating the reason why he didn't find anything last summer was because his method didn't find them.

However, look back on the soils we found last year and the soils we were finding the artifacts were very different. The soils we found this week were very dark, highly organic and fine. This supported the statement that the chinook people tended to build their sites on clean, beach sand. The dark sandy loam was often defined by layers of lighter colored loam and beach sand.

The most exciting find took place yesterday when Jon and his volunteer, Jay(? sorry if I didn't get your name right.) They uncovered a small unifacial stone tool crafted from some cherty material. Because of the fact the modfications go all the way to the edge legnth wise, it is thought that it is only a partial tool and may have broken off from something bigger.

I didn't take too many pictures this time since there was not much to record that would be taken well with a camera.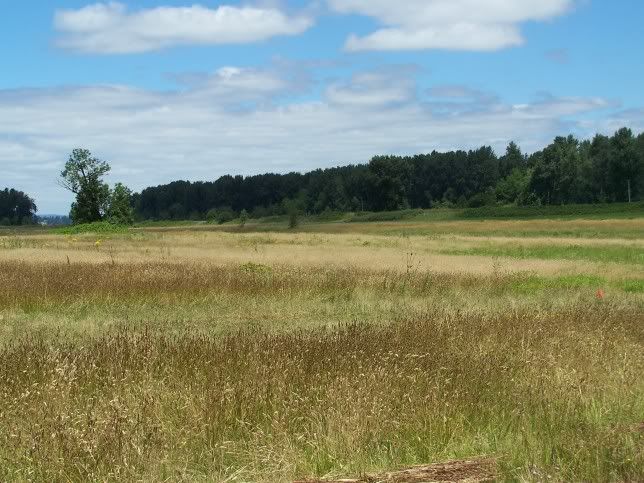 This is a view of the site we started working with on Monday. The little orange flags designates the places in which to begin the auger holes. They are spaced out 20meter apart while the holes are dug at 20cm incriments.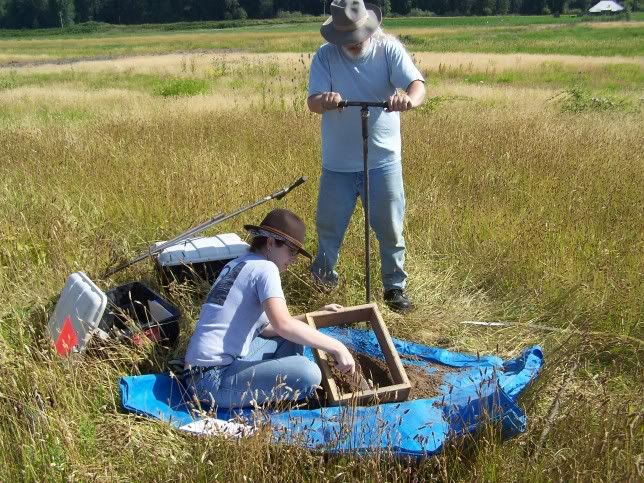 This is Jay and Greg working at on the south positioned holes. The south holes yielded less to zero artifacts in comparison to the holes dug in the northern holes.